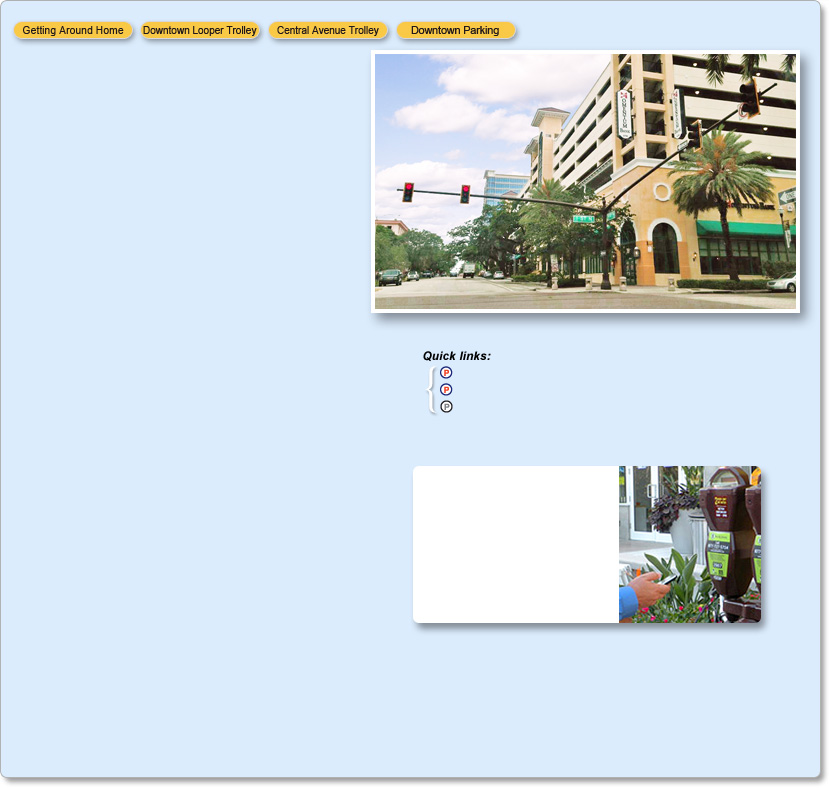 More than 25,000 off-street parking spaces accommodate motorists in Downtown
St Petersburg. In addition to off-street parking, there are approximately 6,500 on-street spaces in the greater Downtown area. Many spaces are time limited to create turnover and availability for retail customers and visitors. Other spaces are metered, also to help create open spaces when customers prefer to park close to their destination on the street.

Downtown Public Parking: For long-term parking,

designates convenient parking garages and lots available to the public. At city owned garages the normal work day rate is $1 per hour, $6 maximum. During non-event nights and weekends customers may park at the Sundial Garage up to four hours for only $1.


Event rates are usually $5-$10 per day.



Downtown Monthly / Employee Parking: There are many commercially available parking lots and garages in Downtown St Petersburg available for a fee on a month to month basis. Visit the Downtown Directory for a complete list of available Monthly / Employee parking facilities, including monthly rates, availability and operator/vendor contacts. Click the
symbol to the lot's name to see its location on the Interactive Map.

Information is also available at the

St Petersburg Area Chamber of Commerce, 100 2nd Ave N, or call 727-821-4069.
Parking in Downtown!
Parkmobile
You can pay for parking on your phone! Whether you download the app or use the mobile website, it's a quick and convenient way to pay for parking!
Click here for more information.
Downtown Parking Enforcement Reminder:
Most on-street parking spaces have time restrictions. Be sure to read the parking signs on these blocks.