May 23 - Jul 5 The Magic of Making: Adornment
The materials vary from gold and silver to wool felt, from wood to polymer clay. Some of the artist are inspired by ancient materials while others by the latest in 3D printing. All share the common thread being made by hand. Florida Craftsmen. 727-821-7391 www.floridacraftsmen.net
May 24 A STARS AND STRIPES HIT PARADE
The Florida Orchestra performs their most patriotic show yet, full of marches and Americana favorites. The Mahaffey Theater. 8-10pm.
727-893-7832 www.themahaffey.com
May 29 EDIBLE ART TRIVIA NIGHT
Enjoy art-related trivia from pop culture, current events, and the Museum collection. Delectable bites and cash bar available.
The Museum of Fine Arts.
5-8pm. 727-896-2667 www.fine-arts.org
May 30 - Jun 1 2014 AVP Tour
Grab your friends for a "glowing" good time at this Run/Walk experience combined with an "adventure race" type scavenger hunt. The night will be lit with glowing runners along a glowing colorful course for 3.1 miles. Race begins at Ferg's 1320 Central Ave. 7-11pm. www.glowbash.com
Jun 7 - Sep 27 My Generation:
Young Chinese Artists
A new generation of artists have emerged in mainland China. Mixed-media works by 27 artists with the overriding themes of politics and the environment. All the artists represented were born after 1976, the end of the Cultural Revolution. Museum of Fine Arts. 727-896-2667 www.fine-arts.org
Jun 12-14 The Beer Project
Experience St Pete's growing craft beer culture in the first ever Beer Project. Participate in creating wearable jewelry, a unique bird house and fishing tackle out of re-purposed cans, bottle caps and labels. Taste beers inspired by the Museum of Fine Arts' Special Exhibitions including a special brew that has been created just for this event. Sample competitors' brews and vote for your favorite. Awards & Demonstrations. Museum of Fine Arts & Green Bench Brewery. 727-896-2667 www.fine-arts.org
Jun 14 INTERNATIONAL YOUNG EAGLES DAY
Come and experience the thrill of flying! Free flights for kids ages 8-17! You will have the chance to actually fly in an airplane and view the world below you, so come, take the skies and become a Young Eagle! Albert Whitted Airport. 10am-2pm. 727-822-1532 www.awaps.org
Jun 27-29 ST PETE PRIDE WEEKEND 3 DAY CELEBRATION
Florida's largest Pride celebration just got even BIGGER! Now a three-day event, celebrating our community's unique diversity like never before!
FRI JUN 27 27/82, THE BENEFIT CONCERT
Featuring local and national performers and bands. State Theater. 7pm.
SAT JUN 28 PRIDE LIGHTED PARADE
More than 150 parade entries will roll down Central Ave in the only nighttime Pride Parade in Florida. Beginning at sunset in the Grand Central District.
SUN JUN 29 WALK THE STREET COLOR FEST
Family Zone featuring rides and games, a Health & Wellness Zone, live music and marches. Central Ave from 22nd to 27th St. 11am-6pm.
727-342-0084 www.stpetepride.com
Jul 4 CITY OF ST PETERSBURG FIREWORKS CELEBRATION
Get your lawn chairs ready and come watch the spectacular fireworks display. Downtown's Waterfront. Spa Beach. Fireworks begin at 9pm. 727-893-7441 www.stpete.org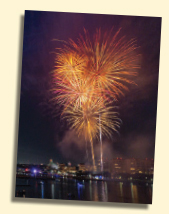 Jul 4 FIREWORKS AT THE MUSEUM OF FINE ARTS
Experience the city's fabulous fireworks display in style with a gourmet barbecue, champagne, and live entertainment in an air-conditioned waterfront view. Museum of Fine Arts. 6pm. Fireworks begin at 9pm. 727-896-2667 www.fine-arts.org
Jul 12 ONCE-A-YEAR STUDIO SALE
A once a year event where the potters of Craftsman House sell their seconds at amazing prices. These pots could have slight imperfections that clay connoisseurs enjoy. Work is stored in the studio all year in anticipation of this sale. Craftsman House. 10am-8pm 727-323-2787 www.craftsmanhousegallery.com
Jul 18 - Aug 10 God of carnage
When two 11-year-old boys have a playground fight, their parents come together for cocktails, hoping to discuss the situation civilly. But as the veneer of polite society quickly falls away, the evening deteriorates into a laugh-out-loud train wreck of finger-pointing, tantrums, and tears. And that's before they break out the rum!
The American Stage.
727-823-7529 www.americanstage.org