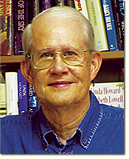 Ray Hinst,
Haslam's Book Store
Ray Hinst & his wife, Suzanne Haslam Hinst, are proud to champion the written word and encourage area authors at Haslam's Book Store. Ray grew up in Miami, obtained a Classics Major degree from Georgetown University and married Suzanne while attending law school at FSU. In 1973, while serving active tours of duty in the US Air Force, Ray was invited to join the family business. After becoming a member of Haslam's staff, he served in the military reserve as a defense intelligence officer for many years.
Ray & Suzanne are third generation booksellers at Haslam's, Florida's oldest and largest book store. This St Petersburg "institution" was founded during the Depression by grandparents Charles & Mary Haslam as a downtown shop selling used pulps and handicrafts. Haslam's moved to its current Central Ave. location in 1964 and has grown to garner a national reputation for variety and service. With 35 years experience in new, used & antiquarian books Ray is called on daily to evaluate a variety of family book troves & treasures.
In a changing culture, Haslam's remains a beacon for readers & writers alike. Few cities can boast a similar bookstore, making Haslam's a genuine St Petersburg treasure.