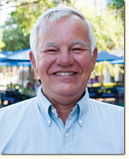 John M. Hamilton, Jr,
Director, Beach Drive Retail, Inc.
John Hamilton, Jr. grew up on Beach Drive, playing in the parks and climbing the Banyan Trees, while his family worked in their professional offices on the 400 block. Today, John runs Beach Drive Retail, Inc., which leases space to the many restaurants and shops around the Parkshore Plaza and 400 Beach condos.
After graduating from USF in Tampa with a degree in Biology, John went to work in the family's real estate office. John's father is a successful plastic surgeon, and his vision about the area inspired him to begin purchasing neighboring property. After John Jr. obtained his MBA at USF, he returned to help manage the family real estate business.
For 30 months in the in the dot-com era, John left to raise capital for a start-up telecom business where he became CFO. On the eve of their IPO, they were bought out by a larger telecomm company.
John returned to the family real estate business, and they began to plan a development for the block of properties accumulated over the past 40 years. The Hamiltons loved the village "flavor" of Beach Drive, and they imagined a residential/retail mixed use project that preserved its special small-town uniqueness. The integral focus was to create retail spaces for small businesses.
Their plan became reality when they eventually sold the block to developer OpusSouth, and they obtained the retail condominium space at both the 400 Beach and the Parkshore Plaza.