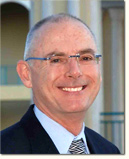 John Collins,
St Petersburg Art Alliance
John Collins, Executive Director, heads the St Pete Arts Alliance, who's goal is to help fund arts initiatives. The arts alliance will be a "placemaker" for the arts in St Petersburg, similar to a local arts agency. It will also be tasked with attracting new artists, arts organizations and signature arts events to the city. .
John has served as President and CEO for the Centre for the Arts in Boca Raton, Vice President for Institutional Advancement at Berklee College of Music and Managing Director of the Arena Theatre at Tufts University. Most recently, John served as chair of St Petersburg's Arts and Culture Economic Survey Report.
John is uniquely qualified for this position, and takes the helm at a key juncture. Public funding for the arts has decreased in recent years as city revenues have decreased and budgets have tightened. As president of Organizational Advancement Consulting, he provides leadership assistance with fundraising campaign planning and execution, marketing communications and staff assessment.
As funding for the arts becomes more of a challenge with public budgets continuing to tighten, John is the right person at a challenging, yet exciting time for the arts community of St Petersburg.