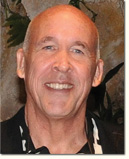 Dr. Hank Hine,
Director of The Dalí Museum
Dr. Charles Henri Hine, also know as Hank, has been the Director of the Dalí Museum since
2002 – during its most intensive period of growth.
Hine, who is also a publisher and an educator, received his undergraduate degree at Stanford University, his master's and doctorate at Brown, and has served as an adjunct professor at Stanford and the University of South Florida. While his academic interests and scholarly publications cover subjects such as text/image relationships, contemporary art & literature, and the opportunities of new media, his real passion can be seen in the work he does for the Dalí Musuem.
Before taking on the position of Director, Dr. Hine sat on the board for several years and also worked at the museum. As Director, he's helped expand special projects and events, established a research and publication arm of the Museum, and recently helped propel the practical knowledge that Dalí's works needed a safer home into a new and innovative museum.
The New Museum, located at One Dalí Boulevard not only better protects the collection from possible storm & water damage, but combines classicism and surrealism much in the spirit of Dalí.
Dr. Hine's passion for Dalí, surrealism, and the arts in general, as well as for the community, and especially children and education, are all reflected in St Pete's magnificent New Dalí Museum! For more information, visit www.thedali.org