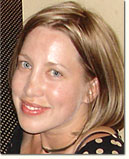 Carrie Jadus,
Multi-media Artist
Carrie Jadus is an acclaimed local artist who believes that "Art is a story unique to each of its viewers." Hailing from many generations of artists, it was no surprise that she inherited such gifts. While attending Pinellas County Center for the Arts at Gibbs High School, Carrie won several awards and her art was exhibited at prominent Tampa bay area museums.
After earning a BS degree in Electrical Engineering and starting her engineering career, Carrie felt that her life was moving in the wrong direction. Instead of living a life of regret, she opted to return to her true passion and become a full-time artist. Carrie's art is now shown in prominent local galleries and is privately collected all over the world. One of her paintings was selected for a commemorative poster celebrating St Petersburg's Waterfront Parks Centennial.
Carrie developed a deep admiration of impressionistic work during her extensive European travels. Her signature style beautifully captures many of downtown's city scenes and landmarks. To view Carrie Jadus' portfolio or commission a painting by this celebrated artist, visit www.carriejadus.com.