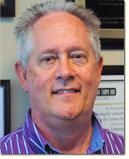 Eric Carlson,
Transportation Director,
St Petersburg Downtown Partnership
The St Petersburg Downtown Partnership is a shareholder-suported, not-for-profit organization that is focused on promoting urban growth and redevelopment in downtown St Petersburg. Fortunately for all who enjoy the efficient Downtown Looper Trolley System, Eric has overseen the growth and development of the system for 18 years as Transportation Director.
Originally from Westport, Connecticut Eric visited Florida often as a child to visit relatives. He relocated to Florida in 1978 and spent time in the restaurant business. His love of travel led to a stint in the travel industry. During his experience with Bay Area Commuter Services, Eric presented a proposal to the Downtown Partnership Board of Directors to help ease congestion and parking issues that the City was beginning to experience with the growth of Downtown. That meeting led to the creation of his current position. Over the years Eric has developed strong relationships with the City, PSTA and the 24 current sponsors of the Downtown Looper Trolley.
The Looper system has evolved to provide transportation to and from Rays games and many major Downtown events. Service is available every 15 minutes and in the evenings on Fridays and Saturdays. The Trolleys are also available for private charters such as Weddings and Birthday parties. Recently the Free Fare Zone has been created to facilitate easy access to the Beach Drive area with parking at the Beach Drive parking lot, formerly known as the Dolphin lot approaching the Pier. More information about the Downtown Looper Trolley can be found at www.LooperTrolley.com.
In his free time, Eric has enjoyed several cruises and looks forward to many more. He also enjoys working in his yard and cooking.