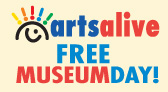 Sep 27 ARTSALIVE FREE MUSEUM DAY
Celebrate the vibrant arts & cultural community in St Petersburg at this annual event. Admission is free to several museums and attractions for a special day of creative spirit. 10am-3pm. www.stpete.org/artsalive.
Oct 4 SATURDAY MORNING MARKET RESUMES
Browse vendors offering fresh produce, gourmet foods, baked goods, plants and flowers, featuring local artists, live music, organic growers and green products. Al Lang Field parking lot. 9am-2pm every Saturday. www.saturdaymorningmarket.com
Oct 17-26 NUREYEV'S EYES
An inside story about two masters - an American painter and a Russian ballet dancer - and how they created a now famous set of paintings.
American Stage.
727-823-7529 www.americanstage.org
Oct 18 MARINE QUEST 2014
You're invited! This award-winning open house is an opportunity for you and your family to learn about Florida's fish and wildlife and the exciting research at the Fish & Wildlife Research Institute (FWRI). 10am-4pm.
727-896-8626 www.myfwc.com/marinequest
Oct 25-26 FOLKFEST ST PETE
Enjoy the 8th annual street fair and music festival with proceeds to benefit Creative Clay. Vendors featuring folk art, fine art, food and beer. Creative Clay. Sat 10am-9pm, Sun 10am-4pm. 727-825-0515 www.folkfeststpete.org
Oct 25 Clay Games VIII
Potters from around the world gather to compete in a decathlon of fun clay events to determine who will be the "Clay Champion of the World!"
Craftsman House Gallery.
Noon. 727-323-2787 www.craftsmanhousegallery.com
Oct 25 FESTIVAL OF READING
Book lovers unite at the 22nd annual celebration of the written word. Meet nationally known authors; attend workshops, book signings, book markets, plus a variety of vendors offering tasty treats. USF Bayboro Harbor. 10am-4pm. 727-892-2358 www.festivalofreading.com
Nov 1 - Dec 31 Ocean Show
- Go Fish
Top American fine craft artists have been invited to make works featuring fish & ocean themes. Clay, blown glass, wood, metal, paintings and silk.
Craftsman House Gallery.
727-323-2787 www.craftsmanhousegallery.com
Nov 1-2 40th ANNUAL SPIFFS
This is your chance to travel the world in a day with St Pete's International Folk Fair Society. Take part in the magic, in a festival of song, dance, costumes, and food from cultures around the globe! Vinoy Park. Sat 10am-9pm. Sun 12-6pm. 727-552-1896 www.spiffs.org
Nov 2 HISTORIC KENWOODS 16th ANNUAL BUNGALOWFEST
This annual home tour and art festival is a special occasion when the Historic Kenwood neighborhood opens its homes and showcase its many talented artists. Tour charming restored homes of many different styles. 10am-4pm www.historickenwood.org
Nov 3-9 BLUE OCEAN FILM FESTIVAL
An entertaining 7-day festival showcasing the world's finest ocean films, award winning marine photography along with a filmmaker's marketplace, science & conservation seminars. Various locations throughout Downtown. 727-388-6682 www.blueoceanfilmfestival.org
Nov 8 - Feb 15 Picasso/Dalí, Dalí/Picasso
Dozens of rarely loaned works from international art museums and private collections pairing works of these leading artists of our era - focusing on paintings, and also featuring drawings, prints & sculpture.
The Dalí Museum.
727-823-3767 www.thedali.org

Nov 9 PIECES Art Show for a Cause
Join local artist Carrie Jadus, SPENT, Angus Shafer, Richard Seidel, and Scott Hillis, to help support YOU ARE VALUED's efforts to create positive change one heart at a time. There will be original PIECES of art sold via live auction, live music, drinks, and snacks for your enjoyment. The Studio @ 620. 5:30-8pm 727-433-1311 www.thestudioat620.org
(Event Info)
Nov 14-16 RIBFEST
A lip smacking 3-day fundraiser, featuring the best BBQ ribbers in the world. Nationally famous bands playing southern rock such as Daughtry, Starship featuring Mickey Thomas, Lynyrd Skynyrd, and Thomas Rhett. Shows and family fun activities. Vinoy Park. Gates open at 11am daily. www.ribfest.org
Nov 15 CREATIVE LOAFING'S CRAFTS & DRAFTS
Bring your family and your pet to this new and exciting event! Local artisans and makers of homemade goods will be showcasing their best creations while you enjoy delicious craft beer and food; take your family to the kiddie craft zone, tie-dye a commemorative t-shirt and even play a bit of shuffleboard. St Petersburg Shuffle Board Club. 10am-5pm.
727-822-2083 www.stpeteshuffle.com
Nov 22 Shopapalooza 2014
Witness the savings, as over 120 locally owned shops, restaurants, art galleries, service providers, and community organizations come together to offer great shopping discounts! This free family-friendly event features: Giveaways & raffles, Retail and Art Vendors, Community Organizations, a Children's Area, and Food & Entertainment. South Straub Park. 10am-7pm. www.localshops1.com