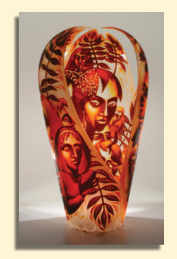 MAR 18 - MAY 31 PERSPECTIVES IN GLASS: A SCIENCE IN OPTICS
Explore various approaches to glass as an artistic medium from a survey of artists from around the country. Objects range from blown glass work, cast glass and even lit installation. Artists include Peter Houk and Lisabeth Sterling. Morean Arts Center. 727-822-7872 MoreanArtsCenter.org/Chihuly
MAR 23 - JUL 28 A FEAST FOR THE EYES - EUROPEAN MASTERPIECES FROM THE GRASSET COLLECTION
Feast yourself on 40 paintings by Old Masters from 17th and 18th century Italy, Spain, Germany, and the Netherlands. From grand banquets to day-to-day life of the time, this is only the SECOND public showing of this delectable collection. Don't be late to this feast! Museum of Fine Arts. 727-896-2667 MFASPete.org
APR 26 - JUN 1 FLORIDA CRAFTART MEMBERS' SHOW
This national, juried, call-to-artists exhibition of original fine craft artwork showcases the best of handcrafted work by members. Florida CraftArt. 727-821-7391 FloridaCraftArt.org
APR 13 - JUN 2 THEO WUJCIK: CANTOS
Celebrate the work of Theo Wujcik, a painter, master printer, and Ybor City art scene fixture with newly accessioned works. This exhibition focuses on the literary references found in the artist's work. Discover this artist today! Museum of Fine Arts. 727-896-2667 MFASPete.org
MAY 11 - JUN 28 FRESH SQUEEZED 3 EXHIBITION
Support budding artists as they exhibit their work for the first time! From across the state, these seven artists are part of a new generation of artists working in mediums ranging from photography to ceramics to mixed media. Morean Arts Center. 727-822-7872 MoreanArtsCenter.org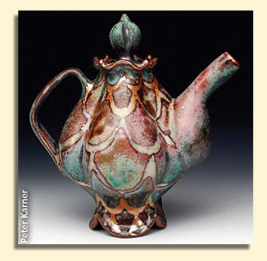 MAY 11 - JUN 25 13TH ANNUAL INVITATIONAL TEAPOT SHOW
Over 40 unique handmade teapots by a top ceramic artisans from across the US, on display and available for purchase. Craftsman House. 727-323-ARTS CraftsmanHouseGallery.com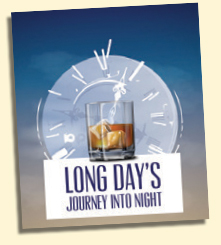 MAY 29 - JUN 30 LONG DAY'S JOURNEY INTO NIGHT
Unravel the secrets of the Tyrone family over the course of an ordinary summer day turned into a foggy, drink-laced fight for love itself. With raw performances depicting the impact of addiction, this production is a stunning highlight of the season. American Stage. 727-823-PLAY AmericanStage.org
MAY 29 TYLER HENRY - THE HOLLYWOOD MEDIUM
Look beyond the veil during this exclusive show with the "Psychic to the Stars" Tyler Henry as he discusses his unique gift and how it influences his everyday life. Mahaffey Theater. 8pm. 727-300-2000 TheMahaffey.com
JUN 1 THE EVOLUTION OF DRAG: DRAG THROUGH THE DECADES
Watch, laugh, and learn from one of drag's top performers today: Daphne Ferraro. Just in time for St Pete Pride, Daphne is joined by 10 of Florida's top female impersonators in this multi-media extravaganza. The Palladium. 8pm. 727-822-3590 MyPalladium.org
JUN 7 - AUG 10 WOOF, MEOW, CHIRP AND SLITHER
In Participation with St Petersburg's initiative "Better City for Pets", this exhibition is artworks of all things pets. Including 3D portraits, artful storytelling, and functional items for pets and their humans. With artists' demos, workshops, pet meet-and-greets, and partnerships with nonprofit organizations and businesses. Florida CraftArt. 727-821-7391 FloridaCraftArt.org
JUN 7-9 INKMANIA TATTOO & ART EXPO
This years event includes seminars, Dj Battle, special performances & entertainment, an art fusion wall, a graffiti wall, tattoo contests and awards, special guests, and more! Whether you're getting your first tattoo or looking to get a cover up tattoo or a piercing this is the place to be. The Coliseum. Fri 2-11pm, Sat Noon-11pm, Sun Noon-9pm. InkManiaExpo.com
JUN 15 - NOV 2 11TH ANNUAL CLAY PRIDE SHOW
Explore this collection of colorful ceramics and glass by clay artists who are openly embracing the clay lifestyle. Craftsman House. 727-323-ARTS CraftsmanHouseGallery.com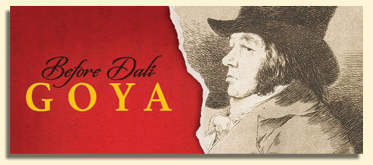 JUN 15 - NOV 2 BEFORE DALÍ - GOYA: VISIONS & INVENTIONS
Two of the most celebrated surrealist that opened minds to an alternative view of the world, brought together in one extraordinary exhibition. Dalí Museum. 727-823-3767 TheDali.org
JUN 15 - NOV 2 VISUAL MAGIC: DALÍ'S MASTERWORKS IN AUGMENTED REALITY & INVENTIONS
Experience the Masterworks of Salvador Dalílike never before through the lens of Augmented Reality (AR). Dalí Museum. 727-823-3767 TheDali.org
JUN 21 - 30 ST PETERSBURG OPERA: MADAMA BUTTERFLY
Witness a love that transcends all boundaries during one of the world's great tragic operas. Prepare to be moved to the depths of your soul. Art directed by Mark Sforzini. The Palladium. 8pm. 727-822-3590 MyPalladium.org
JUN 21 - 23 2019 ST PETE PRIDE WEEKEND
Florida's largest Pride celebration, celebrating our communities unique diversity. 727-342-0084 StPetePride.com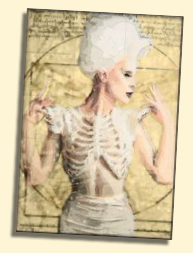 JUN 21 DRAG QUEEN DOCENT TOUR
Join Bak Lava for a colorful and unique look at the stunning, permanent collection of artwork by world-renowned artist Dale Chihuly. Chihuly Collection. 4pm.
JUN 21 SP2 CONCERT
A mixture of various bands and local singers will warm up the crowd as you cool down with your favorite choice of beverage. North Straub Park. 7-10pm.
JUN 21 2ND ANNUAL STREET FOOD AND CRAFT BEER FESTIVAL
A fun foodie filled evening with over 25 savory & sweet Food Trucks, live music by local favorite TL Jentgens. Albert Whitted Park. 6-11pm.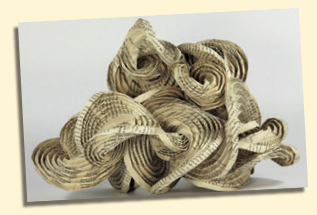 JUN 22 - SEP 29 ABOVE THE FOLD NEW EXPRESSIONS IN ORIGAMI
Unfold the mysteries of the traditional and ceremonial craft of Origami in this exhibition that demonstrates the extraordinary power and potential of contemporary origami through the redefining work of global origami artists. Museum of Fine Arts. 727-896-2667 MFASPete.org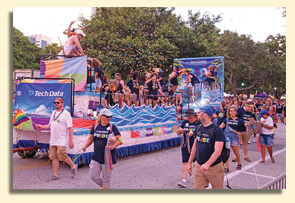 JUN 22 2019 ST PETE PRIDE PARADE & PARTY
A dazzling array of sequins, beads, leathers, and feathers to celebrate the power of beauty and diversity with more than 200,000 people cheering them on. North Straub Park and Downtown Waterfront. 2-11pm. Parade kicks off at 7:15pm and proceeds along Bayshore Drive to Dalí Blvd. 2-11pm.
JUN 22 2019 ST PETE PRIDE TRANSPRIDE MARCH
Inspire and be inspired by the trans and gender non-conforming community during this part of St Pete Pride. 6:30-7pm.
JUN 22 AFTER PARADE CONCERT: RITA ORA
Let loose after the parade with the high energy and glorious voice of the British-Albanian pop star who is a well known supporter and advocate of the LGBTQ community. North Straub Park. 9-11pm. StPetePride.com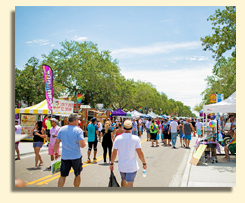 JUN 23 PRIDE'S GRAND CENTRAL STREET FESTIVAL
A day of live entertainment, booths, art, food vendors, as well as surprise events! Grand Central District. 11am-5pm.
JUN 30 TEDESCHI TRUCKS BAND: WHEELS OF SOUL TOUR
Bring the YEE and the HAW to the Wheels of Soul tour as it heads back on the road and makes a stop in the good ole 'Burg. Featuring special guests Blackberry Smoke and Shovels & Rope. Mahaffey Theater. 6:30pm. 727-300-2000 TheMahaffey.com
JUL 4 CITY OF ST PETERSBURG FIREWORKS CELEBRATION
Get your lawn chairs ready and come watch the spectacular fireworks display as we celebrate Independence Day. Downtown's Waterfront. Fireworks begin at 9pm. 727-893-7441. StPete.org
JUL 13 - AUG ONCE-A-YEAR STUDIO SALE
A once a year event where the potters of Craftsman House sell their seconds at amazing prices. These pots could have slight imperfections that clay connoisseurs enjoy. Work is stored in the studio all year in anticipation of this sale. Craftsman House.
727-323-ARTS CraftsmanHouseGallery.com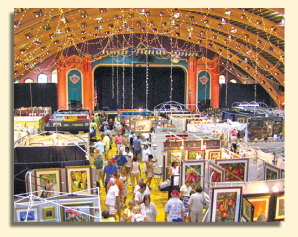 JUL 13-24 31ST COOL ART SHOW
Over 75 outstanding artisans exhibit a remarkable collection of visual and functional creations in paint, wood, ceramics, photography, metal, glass, fiber, mixed media, and jewelry. The Coliseum. 10am-5pm. Pava-Artists.org
JUL 17 - AUG 18 FUN HOME
Find out what it's like to see your parents through grown-up eyes. This intimate and cathartic musical explores Alison at three different ages as she unravels the mysteries of her childhood. American Stage. 727-823-PLAY AmericanStage.org
JUL 18-21 DRILLED
Trudge along the lonely life Larry the Laborer, a blue-collar celebrity, has brought upon himself. Jobless, loveless, and with a toothache, this is a political satire that skewers both parties, the health care system, and dentists. The Palladium. Times vary. 727-822-3590 MyPalladium.org