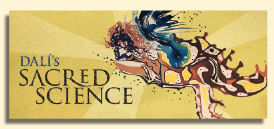 Jan 23 - Jun 12 DISNEY AND DALÍ: ARCHITECTS OF THE IMAGINATION
Immerse yourself in this unique multi-media exhibit that delves into the friendship and history of these two iconic artists and imagine for yourself the meaning behind such profound artistry. The Dalí Museum. 727-823-3736 www.TheDalí.org
Jan 20 - Aug 28 STUDENT SURREALIST ART EXHIBIT: "BETWEEN DREAM AND REALITY"
In honor of teachers and the role they take to nurture the creativity of their students. This exhibit brings together the rational and the fantastical as two worlds collide to bring you this spectacle of the imagination. The Dalí Museum. 727-823-3736 www.TheDalí.org
Feb 12 - Jul 11 JOHN KILEY: LUMINOSITY
An exhibition that features a variety of glass works with rich, but translucent hues that generate a sense of drama that permeates through all of the sculptures. These powerful artworks engage the space that surrounds them playing with both light and negative space. Chihuly Collection. 727-896-4527 www.MoreanArtsCenter.org
Apr 20 - Jul 10 VANESSA DIAZ BEGINNING AT THE CORNICE, NOT THE FOUNDATION
Come witness what this artist has brought to life! Focusing on interior domestic spaces and the distortion of the most common settings in day to day life. Museum of Fine Arts. 727-896-2667 www.MFAstpete.org
May 5 MAY MOVIES IN THE PARK - THREE AMIGOS
Bring a blanket or low chair & enjoy free music & movies on the beautiful downtown waterfront, in North Straub Park. Live music starts at 7pm, followed by a movie at dark. Food & drink available. www.StPetePreservation.org
May 6 - Jun 11 TOP SHELF: A FLORIDA CRAFTART MEMBERS' EXHIBITION
Join in for this year's members' exhibition, featuring some of the finest contemporary glass, jewelry, fiber, wood, ceramics, metals and mixed media the area has to offer! Florida CraftArt. 727-821-7391 www.FloridaCraftArt.org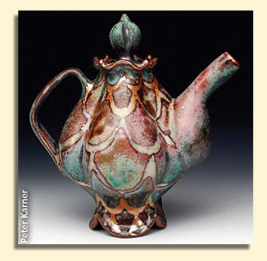 May 7 - Jun 26 10TH ANNUAL CRAFTSMAN HOUSE INVITATIONAL TEAPOT SHOW
A variety of handmade teapots by a select group of national artisans, on display and available for purchase. Craftsman House Gallery & Cafe. 10am - 6pm. 727-323-2787 www.CraftsManHouseGallery.com
May 7 - Jul 31 HAROLD EDGERTON WHAT THE EYE CAN'T SEE
The moment where science meets the art of photography is truly an astonishing sight! Witness for yourself the moment a balloon bursts, a bullet standing still, or a single raindrop frozen in time. Museum of Fine Arts. 727-896-2667 www.MFAstpete.org
May 12 MAY MOVIES IN THE PARK: RADIO
Bring a blanket or low chair & enjoy free music & movies on the beautiful downtown waterfront, in North Straub Park. Live music starts at 7pm, followed by a movie at dark. Food & drink available. www.StPetePreservation.org
May 14 TROUBLE SPOT SOLUTIONS
Love your yard! Meet an experienced landscape designer to learn about building your own low maintenance oasis with friendly and native Florida plants. Sunken Gardens. 10:30am. 727-551-3102 www.StPete.org/Sunken
May 18 ST PETE MAIN STREET SHOP HOP
Featuring specials at more than two-dozen unique & eclectic shops Main Street Gift Baskets and three Grand Prize drawings. St Pete's three historic Main Street districts. 3-7pm. www.DeucesLive.org www.EdgeStPete.org www.GrandCentralDistrict.org
May 19 MAY MOVIES IN THE PARK: SEARCHING FOR SUGARMAN
Bring a blanket or low chair & enjoy free music & movies on the beautiful downtown waterfront, in North Straub Park. Live music starts at 7pm, followed by a movie at dark. Food & drink available. www.StPetePreservation.org
May 21 GRAND CENTRAL CINEMA DEBUT
Join in a great night of food, drink and friends as Weekend at Bernie's is played outside on the Big Screen for all enjoy. Urban Provisions.
727-201-8157 www.GrandCentralDistrict.org
May 21 FRUIT TREES & EDIBLES FOR CENTRAL FLORIDA
From perennial favorites to the unusual and delicious discover edibles best suited for your yard. Tropical fruit guru, Leslie Waters, provides valuable tips and even some samples for you to take home. Sunken Gardens. 10:30am. 727-551-3102 www.StPete.org/Sunken
May 24 DREAM CHILD: THE TRIAL OF ALICE IN WONDERLAND
Experience Alice like never before! Take a trip forward in time as you journey with her into a new story of untold excitement waiting around every corner. The Dalí Museum. 6-9pm. 727-823-3767 www.TheDalí.org
May 26 MAY MOVIES IN THE PARK: LABYRINTH
Bring a blanket or low chair & enjoy free music & movies on the beautiful downtown waterfront, in North Straub Park. Live music starts at 7pm, followed by a movie at dark. Food & drink available. www.StPetePreservation.org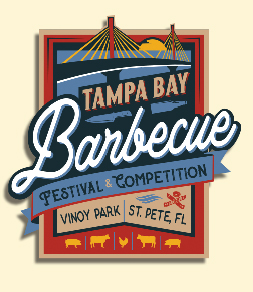 May 28 97X BBQ
Rock out at a full day of live music, beer, great BBQ, and fun! This year's line-up includes: Young The Giant, The Strumbellas, Bear Hands, Joywave and many more! Vinoy Park. Gates open at 11am. www.97xOnline.com for free ticket outlets.
Jun 1-26 A TALE OF TWO CITIES
Adapted from Charles Dickens, by Everett Quinton. This comedy is a fresh spin on the classic social parallels of life story! Take part in this night of coexistence and the hilarity that ensues. American Stage. 727-823-PLAY www.AmericanStage.org
Jun 1-30 TYLER HOUSTON: RESIDENCY EXIT SHOW
Tyler's handcrafted ceramic works combines functionality with beauty inspired by the environment for which he is living. Done in terra sigillata form,these pots take on a classic & ancient style. Morean Art Center for Clay. 727-821-7162 www.MoreanArtsCenter.org
Jun 3 WEIRD AL YANKOVIC - THE MANDATORY TOUR
Known for his 15 years of parody music, such as: Like a Surgeon, Ebay & Eat It! Weird Al graces the stage for a night of laugh out loud comedy that is sure to send you home smiling! The Mahaffey Theater. 8pm. 727-893-7832 www.TheMahaffey.com
Jun 3, 5 & 7 ST PETE OPERA: LA BOHEME
This love story has withstood the test of time, and with good reason. True love isn't measured in money and is quite hard to come by. Sung in Italian with English surtitles. The Palladium Theater. 727-823-2040 www.MyPalladium.org
Jun 6 - 12 MUSIC ON MAIN STREETS
This is a one-week celebration of daily live music at more than two dozen venues in St Pete's three historic Main Street districts featuring bands such as: Florida Cajun Zydeco, Jazz Pulse and Henry Ashwood! Deuces Live, EDGE, and Grand Central.
Jun 11 - JUL 3 8TH ANNUAL CLAY PRIDE
Featuring a collection of colorful ceramics by clay artists who are openly embracing the clay lifestyle. Craftsman House Gallery & Cafe. 10am - 6pm. 727-323-2787 www.CraftsManHouseGallery.com
Jun 10-11 BEER PROJECT: PUBLIC HOME BREW TASTING & AWARDS
Sample some of the finest home brews our community has to offer! As you drink to the creativity and ingenuity that these artisans have presented you with, don't forget which one you like best, because you are going to get the chance to vote on it. Museum of Fine Arts.
Fri 7-10pm, Sat 1-4pm. 727-896-2667 www.MFAstpete.org
Jun 24-26 2016 ST PETE PRIDE WEEKEND
Florida's largest Pride celebration, celebrating our community's unique diversity.
Jun 24 SP2 CCONCERT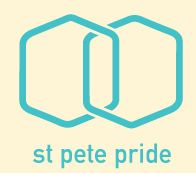 A mixture of various bands and local singers will warm up the crowd as you cool down with your favorite choice of beverage! Grand Central District. Fri 6-11pm.
Jun 25 LGBT PRIDE PARADE & BLOCK PARTY
More than 150 parade entries will roll down Central Ave in the only nighttime Pride Parade in Florida. Beginning at sunset in the Grand Central District.
Sat 5-11pm.
Jun 26 PRIDE FESTIVAL
With more than 350 exhibitors and multiple stages, this Festival has something for everyone. Central Ave from 22nd to 28th St.
Sun 11am - 6pm. 727-342-0084 www.StPetePride.com
Jun 24 - AUG 13 A WELL CRAFTED TALE-CALL TO ARTISTS
Let your imagination soar as childhood memories are triggered by colors, shapes & textures on exhibit! This visual form of storytelling captures family histories, fantasy adventures & documents cultures. Florida CraftArt. 727-821-7391 www.FloridaCraftArt.org
Jul 1 VANS WARPED TOUR 2016
This all day music event is one that is sure to rock your socks off! With 7 stages and an incredible line up of bands that include: BallyHoo, Reel Big Fish, Falling In Reverse, Roam, Set It Off & so many more! Vinoy Park. 11am - 9pm. www.VansWarpedTour.com
Jul 2 - Sep 6 HORST: PHOTOGRAPHY - FASHION AND SURREALISM
A giant of the fashion industry, known for his mastery of expressive lighting and atmospheric illusion! Experience the elegance of 180 works on display. The Dalí Museum. 727-823-3767 www.TheDalí.org
Jul 4 CITY OF ST PETERSBURG FIREWORKS CELEBRATION
Get your lawn chairs ready and come watch the spectacular fireworks display as we celebrate independence day. Downtown's Waterfront. Spa Beach. Fireworks begin at 9pm. 727-893-7441 www.StPete.org
Jul 9 - Aug 21 98TH ANNUAL MEMBERS EXHIBITION + SOLO EXHIBIT BY ALAN JOHNSON
Annual non-juried member's exhibition held in conjunction with a series of events celebrating member-artists, including workshops, critiques and works for sale. Along with the 2015 Best of Show award winner, Alan Johnson's solo exhibit. Morean Arts Center. 727-822-7872 www.MoreanArtsCenter.org
Jun 12 DTSP SUMMER CINEMA: FOOTLOOSE
Bring your blanket and join in the outdoor fun! Indulge in music, food & drink while viewing a moonlight movie. Museum of Fine Arts. Music at 7pm, Movie starts at Dark. www.CinemaSquatch.com
Jun 18 - Oct 9 SHANA MOULTON JOURNEYS OUT OF THE BODY
Humorous yet deep explorations of New Age approaches to self-improvement, the ongoing series of "the Whispering Pines" portrays the artist grappling with various maladies, and seeking out remedies from some of the most likely and unlikely sources. Museum of Fine Arts. 727-896-2667 www.MFAstpete.org
Jul (TBA) SUNRISE SALE
In July, join the fun at "St Petersburg's biggest pajama party" and support downtown businesses who are offering shoppers the best price of the year! The 43nd annual Sunrise Sale, which is sponsored by the Downtown Business Association, is not to be missed. Wear your pajamas for special discounts. Enjoy blow out prices from participating retailers and deals from downtown restaurants. Date & Time to be announced, visit www.StPeteDownTownBiz.com
Jul 23 DREW THOMAS MAGIC
America's Got Talent finalist hits the stage with his magical montage! Experience for yourself what has been referred to as the most unique approach to magic in 50 years. The Mahaffey Theater. 8pm. 727-893-7832 www.TheMahaffey.com
Jul 25-29 SUMMER CAMP AT THE MFA: REGISTER BY JULY 8TH
Led by an incredibly gifted marine scientist and certified children's yoga teacher, this summer camp sure to exercise your child's body and mind at the same time! Museum of Fine Arts. 727-896-2667 www.MFAstpete.org
Jul 31 DTSP SUMMER CINEMA: BEST IN SHOW
Bring your blanket and join in the outdoor fun! Indulge in music, food & drink while viewing a moonlight movie. Museum of Fine Arts. Music at 7pm, Movie starts at Dark. www.CinemaSquatch.com
Aug 1-31 5TH ANNUAL BATTLE OF THE BURGER
A delicious competition between Grand Central District restaurants to see who serves the best burger! Try them all throughout the month and vote for your favorite at www.GrandCentralDistrict.org.
Sep 11 DTSP SUMMER CINEMA: PEE-WEE'S BIG ADVENTURE
Bring your blanket and join in the outdoor fun! Indulge in music, food & drink while viewing a moonlight movie. Museum of Fine Arts. Music at 7pm, Movie starts at Dark. www.CinemaSquatch.com