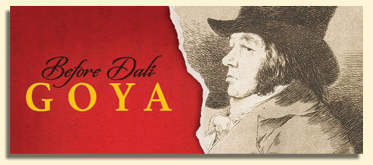 JUN 15 - NOV 3 BEFORE DALÍ - GOYA: VISIONS & INVENTIONS
Two of the most celebrated surrealists that opened minds to an alternative view of the world, brought together in one extraordinary exhibition. Dalí Museum. 727-823-3767 TheDali.org
JUN 15 - NOV 2 VISUAL MAGIC: DALÍ'S MASTERWORKS IN AUGMENTED REALITY & INVENTIONS
Experience the Masterworks of Salvador Dalí like never before through the lens of Augmented Reality (AR). Dalí Museum. 727-823-3767 TheDali.org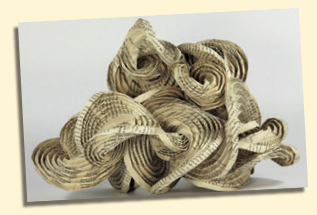 JUN 22 - SEP 29 ABOVE THE FOLD NEW EXPRESSIONS IN ORIGAMI
Unfold the mysteries of the traditional and ceremonial craft of Origami in this exhibition that demonstrates the extraordinary power and potential of contemporary origami through the redefining work of global origami artists. Museum of Fine Arts. 727-896-2667 MFASPete.org
JUL 11 - DEC 22 PIVOT
The inaugural nationwide call-to-artist studio glass exhibition that reveals a "Pivotal" moment in the artist's career, process or artistic direction. These works represent a bold, new path of expression by the artist and communicates this shift in a visual exchange between artist and viewer. Imagine Museum. 727-300-1700 ImagineMuseum.com
JUL 13 - SEP 19 THIS IS ME: SELF PORTRAITS OF MOREAN MEMBERS
The 2019 members exhibition includes 200 works of art expressing "who" artist members are. Whether a literal interpretation of a self-portrait, or a more conceptual idea; whether a painting, a sculpture, or a photograph, we get a glimpse into the lives and personalities of these artists through their intriguing work. Morean Arts Center. 727-822-7872 MoreanArtsCenter.org
AUG 16 LA LUCHA: 80'S JAZZ PARTY FEATURING JAMIE PERLOW
Hear your favorite '80s hits jazzed up by Palladium favorites Jamie Perlow and La Lucha, featuring John O'Leary (piano), Mark Feinman (drums), and Alejandro Arenas (bass). Dress for the occasion - they will! The Palladium. 7:30pm. 727-822-3590 MyPalladium.org
AUG 17 - FEB 16 UP CLOSE AND PERSONAL - ART ON AN INTIMATE SCALE
Throughout history cultures around the globe have created masterful works of art intended for either personal enjoyment or for sharing with a small number of people. This exhibition focuses on objects that can easily be overlooked due to their small size and intimate focus. At the same time, these personal works offer wonderfully intimate glimpses into how they functioned as mementos, objects of private religious devotion, symbols of political affiliations, or signifiers of wealth and status. Museum of Fine Arts. 727-896-2667 MFASPete.org
AUG 17 LATIMORE!
This Tampa Bay hometown soul singer and keyboard player, who goes by his last name Latimore, has been in show business almost 60 years as a professional musician, has produced over 20 albums and 15 singles that made Billboard magazine's R&B sales chart. He connects listeners to blues through soul...and synthesizes the two forms into something uniquely special. The Palladium. 7:30pm. 727-822-3590 MyPalladium.org
AUG 22 ELIZABETH BAKER: INTERSECT
Forget what you know about music and experience the multi-dimensional nature of the work of the self-described "New Renaissance Artist" Elizabeth Baker. She is joined by pianist John O'Leary and a group of special guests for an evening of improvisation and connection. The Palladium. 7:30pm. 727-822-3590 MyPalladium.org
AUG 22 PARC'S 5TH ANNUAL TOP CHEFS
Top Chefs pairing up with individuals from PARC's Culinary Program, will delight guests with mouthwatering fare from top local restaurants. Morean Arts Center. 727-822-7872 MoreanArtsCenter.org
AUG 23 PEACE OF WOODSTOCK
Celebrate the 50th anniversary of the most iconic music festival to ever take place: Woodstock. Live band performances of everything from Havens to Hendrix will conjure the spirit in the sky during those famous three days of music and fun. The Palladium. 8pm. 727-822-3590 MyPalladium.org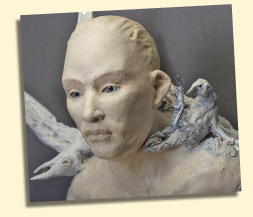 AUG 23 - OCT 20 THE BEAUTIFUL AND THE BIZARRE: FIGURATIVE CERAMICS INVITATIONAL
Top ceramic artists in this national invitational exhibition explore human and animal figures, along with fantastic beings that bridge the gap between the real and surreal. Featuring renowned ceramic artists from across the country. Florida CraftArt. 727-821-7391 FloridaCraftArt.org
AUG 17 - FEB 16 EXPLORE THE VAULTS - VISIONS OF FRANCE
Generally only five percent of the museum's collection is on view at any given time. The other ninety-five percent-mainly photographs, prints, and drawings, are kept in dark, climate-controlled vaults to protect them from fading. Glimpse some of these rare, vulnerable objects available in a unique exhibition format. Featuring prints, drawings, and photographs by artists such as Henri de Toulouse-Lautrec, Camille Pissarro, James Tissot, Edward Jean Steichen, and Paul César Helleu. Museum of Fine Arts. 727-896-2667 MFASPete.org
AUG 30 KICK THE BUCKET LIST SHOW
Laugh as hard as you may cry during this hilarious mix of stand-up comedy and trips down memory lane. A clean comedy show that pokes fun at "growing older with a sense of humor." The Palladium. 8pm. 727-822-3590 MyPalladium.org
AUG 31 - DEC 1 FOOD PHOTOGRAPHY BY CHEF CHUCK BANDEL
A special exhibition featuring food photography and behind-the-scenes looks at restaurant life by Café Gala Chef Chuck Bandel. Chef Bandel's accomplished photos from his time in Spain pay homage to images of Dalí's homeland. "Every dish I do is directly inspired from my time in Spain, either from an ingredient, a technique, a feeling, or a place." Dalí Museum. 727-823-3767 TheDali.org
AUG 30 THE MUSHROOM BROTHERHOOD: AN EVENING AT THE FILMORE
Experience the visual and musical energy that is synonymous with the iconic Allman Brothers Band and their brand of southern rock as founding member Jai Johnny Johnson joins The Mushroom Brotherhood for one heck of a show and a Q&A afterward. The Palladium. 8pm. 727-822-3590 MyPalladium.org
SEP 6 COLIN MOCHRIE PRESENTS HYPROV: IMPROV UNDER HYPNOSIS FEATURING MASTER HYPNOTIST ASAD MECCI
From the minds of improv comedy legend Colin Mochrie and Master Hypnotist Asad Mecci comes a brand new side-splitting show where hypnosis and improv come together as two masters of their crafts unite for a totally unique comedy experience. Mahaffey Theater. 8pm. 727-300-2000 TheMahaffey.com
SEP 12-14 ST PETE ART & FASHION WEEK
Fashion has arrived and with it a whole week full of events, starting with a VIP Opening Night Soiree, an ART Fashion Market and ending with the big Runway Fashion Show. Various Downtown locations. StPeteArtandFashionWeek.com
SEP 13 2ND ANNUAL ART TIES US GALA
One of St Petersburg's most recognized Arts Fundraisers. An Art Contest with 62 participating artists and Gala to bolster awareness of the talents and contributions of local artists. The Grand Ballroom at The Birchwood. 7-10pm. ArtTiesUs.com
SEP 20-22 CROSSING THE BAY: A CONCERT VERSION
From the creators of Webb's City comes a new musical about Old Florida Bay-Crossed lovers. Ancient rivalries: North vs South; Rich vs Poor: Tampa vs. St Pete. Inspired by Jane Austen's PRIDE & PREJUDICE, reset in 1800s Tampa Bay. The Palladium. 727-822-3590 MyPalladium.org
SEP 21 ONE STEP CLOSER TO THE CURE
Cheer on the women who inspire so many with their strength during this race in support of the Celma Mastry Ovarian Cancer Foundation. All participants receive a t-shirt, medal, and refreshments. Albert Whitted Park. 8:30am. OvarianCancerFoundation.org
SEP 21 2ND ANNUAL GOOD WITH ME DAY FESTIVAL
Recognize your inner value and empower yourself to see the value in others during this festival that features health-conscious vendors, hands-on experiential activities, and like-minded people who see the importance in themselves and in others! Williams Park. 10am-4pm. GoodWithMe.com
SEP 27 DEEP PURPLE: THE LONG GOODBYE TOUR
Rock on with the hard rock legends of Deep Purple, the band with a career spanning seven decades who pioneered the hard rock genre and have sold over 100 million albums worldwide. No rock lover will want to miss this chance to see these legends live! Mahaffey Theater. 8pm. 727-300-2000 TheMahaffey.com
SEP 28-29 BIG INK
Celebrate works on paper with hands-on demonstrations and the opportunity to witness the printing of monumental woodblock prints carved by artists. Morean Arts Center. 727-822-7872 MoreanArtsCenter.org
SEP 28 - OCT 11 COME OUT ST PETE
In celebrate of National Coming Out Day on Oct 11 with the LGBTQ community with so many great and fun events you won't want to miss! ComeOutStPete.org
SEP 28 OVER THE RAINBOW GRAND CENTRAL CHALLENGE
Teams compete to fulfill challenges at restaurants, bars, and other businesses. Grand Central District. 11am-2pm.
OCT 3 TASTE OF GRAND CENTRAL
Eat & Drink in the Grand Central District and a portion of the sales will benefit The Grand Central District Association & Come Out St Pete.
OCT 4 COME OUT ST PETE VOGUE BALL
A St Pete debut "Vogue Battle" with a winner chosen for overall Best of the Ball. 100% of proceeds to benefit the VFW Post #39.
OCT 5 COME OUT ST PETE PARADE & FESTIVAL
The Parade route will run along Central Ave from 20th St and head west with a custom rainbow flag, one city block in length being unfurled along the route from 10am-Noon. After the parade enjoy a festival of local small businesses, artists and makers selling their goods and services along with live entertainment and special performances along Central Avenue between 22nd and 31st Streets. Grand Central District. ComeOutStPete.org
OCT 2 - NOV 3 VIETGONE
An all-American love story about two very new Americans. It's 1975, Saigon has fallen. He lost his wife, she lost her fiancé. But now in a new land, they just might find each other. American Stage. 727-823-PLAY AmericanStage.org
OCT 4 BETTY FOX BAND ALBUM RELEASE PARTY: PEACE AND PIECES
Touring in support of her new album "Peace and Pieces," Betty Fox has come a long way from her southern roots to headlining festivals and captivating thousands with her raw swagger and unwavering talent. The Palladium. 8pm. 727-822-3590 MyPalladium.org
OCT 5 THE CAPITOL STEPS
Whether you're a Democrat or Republican (or somewhere in-between), if you've ever wanted to see Donald Trump sing a rock song, Bernie Sanders sing a show tune, and Vladimir Putin dance shirtless...this is the show for you! The Palladium. 8pm. 727-822-3590 MyPalladium.org
OCT 6 SATURDAY MORNING MARKET RESUMES
Browse vendors offering fresh produce, gourmet foods, baked goods, plants & flowers. Featuring local artists, live music, organic growers and green products. 9am-2pm. SaturdayMorningMarket.com
OCT 6 ST PETE EMPOWER + YOGA
Support the healing of sexual assault and domestic violence survivors through the Heels to Heal non-profit organization. All funding and donations go directly to services and activites that benefit survivors including therapy, medical care, and counseling. North Straub Park. 6am-2pm. HeelsToHeal.org
OCT 10-13 ST PETE PERFORMS
Celebrating St Petersburg as a leading arts and cultural destination. St Pete Performs is an annual festival of arts featuring theatre, dance, and a jazz celebration throughout the city's arts districts. StPeteArtsAlliance.org
OCT 11 BENISE - FUEGO!
Feel the heat of the Latin romantic compositions of Emmy-award winning composer Benise and his Spanish guitar. A feast for the eyes as much as the ears, this show features dancers versed in everything from Cuban Salsa to Parisian Waltz. Escape to a Spanish courtyard with Benise. Mahaffey Theater. 8pm. 727-300-2000 TheMahaffey.com
OCT 11 'THE GRASSHOPPER AND THE ANT' AND OTHER STORIES AS TOLD BY JENNIFER ANGUS
A visionary artist who twists the familiar into the unsettling, Jennifer Angus challenges our perceptions and expectations by working in an unusual medium: dried, exotic insects. Her site-specific installations often incorporate large, brilliantly-colored insects into elaborate patterns inspired by Victorian wallpaper and 19th-century book illustration - always to dramatic and startlingly beautiful effect. Museum of Fine Arts. 727-896-2667 MFASPete.org
OCT 12 2019 WALK TO END ALZHEIMER'S
Join this 2 mile Walk to End Alzheimer's in the world's largest event to raise awareness and funds for Alzheimer's care, support and research. Poynter Park. Registration 8am. Ceremony 9am. Alz.org
OCT 12 2019 WALK LIKE MADD PINELLAS
Walk Like MADD is MADD's signature fundraising event to help raise both awareness and funds to eliminate drunk and drugged driving. We hope that you and thousands of others will rally together to help create a future of "No More Victims." Albert Whitted Park. 8-11am. WalkLikeMadd.org
OCT 13 WAYNE BRADY
Modern renaissance man Wayne Brady brings his signature off the cuff brilliance to the Burg on his new comedy tour. Mahaffey Theater. 7pm. 727-300-2000 TheMahaffey.com
OCT 16 ARTFUL FIVE COURSE WINE PAIRING DINNER
Luxuriate in this night of fine dining to benefit the arts. Featuring a five-course dinner with dishes that celebrate our artistic community and each course paired with a specially selected estate wine. The Birchwood. 6-9pm. 727-518-5142 TheBirchwood.com
OCT 18 FIRST ANNUAL ITALIAN FOOD & WINE FESTIVAL
Join in for food trucks, fun, live music & all the pasta, pizza, cannoli and wine you can eat and drink! Albert Whitted Park. 6-10pm. GulfToBayFTA.org
OCT 19-26 SHINE 2019: 5TH ANNUAL ST PETERSBURG MURAL FESTIVAL
Transforming the streets of St Petersburg into an open-air museum that showcases large-scale murals by internationally renowned and local artists with additional art exhibits and events happening throughout the city! StPeteArtsAlliance.org
OCT 19 BURN: MOREAN STREET PARTY
A unique event, illuminating the power of art in public spaces as well as bringing talented street artists into the gallery. With live glassblowing in the dark at the Morean Glass Studio plus interactive art throughout the evening as live music surrounds you as you interact with art and artists, sip craft cocktails and enjoy gourmet food. Morean Arts Center. 727-822-7872 MoreanArtsCenter.org
OCT 19 OUT OF THE DARKNESS COMMUNITY WALK TO FIGHT SUICIDE
Unite with the community to raise awareness and funds that allow the American Foundation for Suicide Prevention (AFSP) to invest in new research, create educational programs, advocate for public policy, and support survivors of suicide loss. South Straub Park. Registration 8am. Program 9:30am. Walk 10am. 727-403-2754 AFSP.donorDrive.com
OCT 19 MAKING STRIDES AGAINST BREAST CANCER
Celebrate survivors on this occasion to express hope and our shared determination to make this breast cancer's last century. You can help finish the fight against breast cancer by raising funds for and walking with American Cancer Society Making Strides of Pinellas. Vinoy Park. Registration 8am. Walk 9am. MakingStridesWalk.org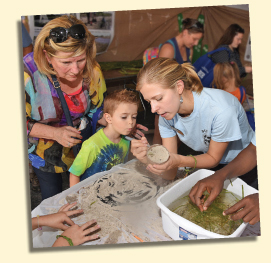 OCT 19 MARINEQUEST 2019: 25TH ANNIVERSARY
A great opportunity for you and your family to learn about Florida's fish and wildlife and the exciting research at the Fish & Wildlife Research Institute (FWRI). 10am-4pm. 727-896-8626 MyFWC.com/MarineQuest
OCT 19 9TH ANNUAL ST PETE SCIENCE FESTIVAL: SCIENCE IN SUN!
Explore the wonders of hands-on science, technology, engineering, art, and math. (STEAM) Who said science cant be fun? Poynter Park. 10am-4pm. 727-803-9799 StPeteSciFest.org
OCT 19 THE FLORIDA ORCHESTRA POPS IN THE PARK
Bring a date or the whole family for free music under the stars on the beautiful downtown waterfront with a fireworks finale! Enjoy food trucks and family activities. Vinoy Park. 7pm. 727-892-3331 FloridaOrchestra.org
OCT 19 RANDY RAINBOW LIVE!
Comedian, actor, and sassy social media "kween" Randy Rainbow brings the jokes on his tour for a night of song parodies and an honest look in the mirror. Known for his political commentaries and work for Kathy Griffin, this night is not to be missed! Mahaffey Theater. 7pm. 727-300-2000 TheMahaffey.com
OCT 20 OPEN STREETS ST PETE
Join like-minded cyclists, walkers, runners, skaters, and all other people-powered movers during this family friendly festival featuring fitness classes, yoga, music, food, art, games, and giveaways. Albert Whitted Park & Bayshore Drive. 11am-4pm. OpenStreetsStPete.com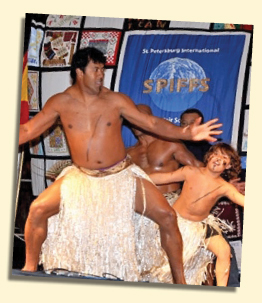 OCT 24-27 SPIFFS 45TH ANNUAL INT'L FOLK FAIR
Travel around the world in a day! Visit many foreign countries with cultural exhibits, marketplace, delicious foods, crafts, dancing and music from all around the world. Attend the Grand Parade of Nations and Citizen Oath Ceremony on Oct 27 at 2pm. Vinoy Park. 727-552-1896 SPIFFS.org
NOV 2 BUNGALOWFEST 2019
Historic Kenwood's 21st Annual tour of homes. Explore the architectural diversity and the phenomenon of living large in small spaces. Craftsman Bungalows, Tudor, Four Square, Mid-Century Modern and artist dwellings. Plus an eclectic array of artwork for sale by local artists. 10am-4pm. HistoricKenwood.org
NOV 2-3 SAVOR ST PETE FESTIVAL
Serving up 180-degree views of Tampa Bay and the Vinoy Basin, artfully blending local rock stars with national brand partners offering tastes and sips to please every palate. North Straub Park. Noon-4pm. SavorTheBurg.com
NOV 4 WE WILL ROCK YOU
Follow the story of Scaramouche and Galileo as they attempt to break free from their bleak conformist reality. WE WILL ROCK YOU reflects the scale and spectacle that marked Queen's live performances and earned the band international acclaim. Mahaffey Theater. 7pm. 727-300-2000 TheMahaffey.com
NOV 7 TERRY FATOR
With five new characters in tow to celebrate the 10 year anniversary of his Las Vegas residency, Terry Fator, ventriloquist and impersonation icon, as well as his 100+ voices, come to St Pete to laugh up a storm. Mahaffey Theater. 7pm. 727-300-2000 TheMahaffey.com
NOV 8 DANE COOK: TELL IT LIKE IT IS
Known for his dark humor and high-energy stage presence, stand-up comedian and actor Dane Cook hits the road again with his 2019 Tell It Like It Is comedy tour. Mahaffey Theater. 7:30pm. 727-300-2000 TheMahaffey.com
NOV 9 FESTIVAL OF READING
Book lovers unite to celebrate the written word. Meet nationally known authors, attend workshops, book signings, book markets, plus a variety of vendors offering tasty treats. USF St Petersburg. 10am-5pm. FestivalofReading.com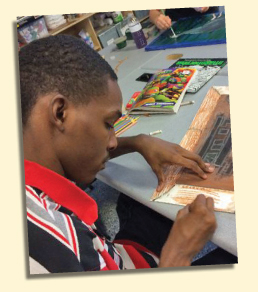 NOV 9 CREATIVE CLAY FEST 2019
A Celebration of original art and live music with proceeds to benefit Creative Clay. Find amazing art, music, a family area and great food! Under the overpass at Tropicana Field Lot 11. 11am-8pm. 727-825-0515 CreativeClay.org
NOV 15-17 ST PETE RUN FEST 2019
Join THOUSANDS of runners for this exciting three days of festival fun, including the 3 DAUGHTERS ST PETE HALF MARATHON, ROLLIN' OATS 10K, AND THE OUTBACK STEAKHOUSE SUNSHINE CITY 5K. Even the little ones can enjoy photo finish with 3 different distances for kids of all ages. Downtown & Waterfront. 9am-4pm. StPeteRunFest.org
NOV 13 MANNHEIM STEAMROLLER CHRISTMAS
Celebrate the holiday with America's favorite holiday tradition for over 30 years! The magic and spirit of the season comes alive with the signature sound of Mannheim Steamroller! Mahaffey Theater. 7:30pm. 727-300-2000 TheMahaffey.com
NOV 15 THE DOOBIE BROTHERS
This is your chance to see the mind-blowing, roots-based, guitar-driven rock and roll The Doobie Brothers have been delivering for more than four decades. Don't miss your chance to see these legends live! Mahaffey Theater. 8pm. 727-300-2000 TheMahaffey.com
NOV 30 & DEC 1 10TH ANNUAL SHOPAPALOOZA FESTIVAL
Complete your holiday shopping list at the biggest shopping events of the year and come together with locally owned shops, restaurants, art galleries and service providers at great discounts so you can give unique gifts to everyone on your list! South Straub Park. 10am-5pm. ShopapaloozaFestival.com
NOV 23-24 CRAFTART FESTIVAL 2019
The 22nd Annual, featuring more than 120 of the nation's most established and emerging fine craft artisans! Enjoy works in jewelry, clay, fiber, glass, wood, metal, paper and mixed media! There are artist demonstrations, a children's activity tent, food trucks, wine and craft beer. Central Avenue between 4th and 6th street. 10am-5pm. Florida CraftArt. 727-821-7391 FloridaCraftArt.org