Dec 5-8 ST PETERSBURG POWER & SAILBOAT SHOW
Get set to sail at this largest boating show on the Gulf Coast.
Mahaffey Theater Yacht Basin. Thurs & Fri 10am-6pm, Sat 10am-7pm,
Sun 10am-5pm. 800-940-7642 www.showmanagement.com
Dec 7 NEXT BIG THING
The park will be alive with some rocking music at this all day festival featuring 90's rock band Stone Temple Pilots along with other musical acts such as: Manchester Orchestra, Jimmy Eat World & A Day to Remember. Vinoy Park. Noon-11pm. 727-894-1000 www.97xonline.com/nbt2013
Dec 7 SANTA PARADE & SNOWFEST
HO,HO,HO! Delight in the floats, bands, clowns and of course the guest of honor, Santa Claus. After the parade come play in the snow, do some glice ice skating, reindeer races, moonwalk and lots more. North Straub Park. 10am-3pm. 727-893-7441 www.stpete.org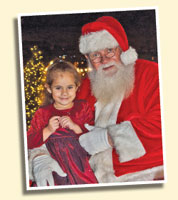 Dec 7-8, 12-15, 19-23 Santa & Ice Skating
Visit Santa in the Park and go "glice" skating on a simulated ice rink. Skating is $5 for 30 minute sessions. Santa visits are free, camera's allowed. 6-9pm. North Straub Park. www.stpeteparksrec.org
Dec 13 BOLEY CENTERS JINGLE BELL RUN
Come join the fun as men, women & children show their holiday spirit at this 31st annual Christmas run. The course twinkles with hundreds of luminaries and the sound of thousands of jingle bells fill the night air. Pioneer Park. 7:30pm. 727-821-4819 www.boleycenters.org
Dec 14 ROTARY CLUB ILLUMINATED
BOAT PARADE
See spectacular lighted boats and lots of holiday activities at this festive 27th Annual holiday event. The fun begins at Vinoy Basin Waterfront. 6pm.
727-822-3277 www.stpeteboatparade.org
Dec 15-29 DAVID SEDARIS' SANTALAND DIARIES
It's the highlight of the Christmas season. Don't miss this outrageously funny one-man show about the author's experiences as an unemployed actor/writer taking a job as an elf at Macy's department store in New York City. American Stage. 727-823-PLAY www.americanstage.org
Dec 23 BEEF O'BRADY'S BOWL
Watch the Big East and C-USA champs battle it out for the 2013 title. Tropicana Field. 7:30pm. www.stpetersburgbowl.com
Dec 31 FIRST NIGHT 2014
Usher in the New Year with your family at the 21st Annual New Year's Eve extravaganza. The streets fill with music, lights, dance, creative fun, fireworks, and a special centennial tribute in honor of Tony Jannus,
St Petersburg's pioneer aviator. Participants can walk from venue to venue along St Petersburg's charming sidewalks and shops. Downtown St Petersburg. 4pm-Midnight. 727-823-8906 www.firstnightstpete.com
Jan 1 CENTENNIAL CELEBRATION OF COMMERCIAL AVIATION
To celebrate its 100th Birthday, a new exact reproduction of the original Benoist Airboat airliner was built by Kermit Weeks of nearby Fantasy of Flight, and will reenact the first flight of the first airline on New Year's Day 2014. Spa Beach. 10am. www.airlinecentennial.org
Jan 18 EAST-WEST SHRINE GAME
The longest-running all-star college football game, combining great football with a great cause. A showcase for the next generation of NFL greats and a priceless benefit event for Shriners Hospitals for Children. Tropicana Field. 813-281-8686 www.shrinegame.com
Jan 18 - Apr 27 WARHOL: ART, FAME, MORTALITY
The largest selection of Warhol art ever exhibited in west central Florida on loan from the Warhol Museum. Includes paintings plus drawings, prints, photographs, video and film. The Dalí Museum. 727-823-3767 www.thedali.org
Jan 18 - May 11 NEW MEXICO & THE ART OF ENCHANTMENT
View the work of American Southwest artists such as Georgia O'Keefe, John Sloan, Diego Romero, and others who gave voice to the deep-rooted traditions through color, form and subject. Includes a special exhibition of contemporary masters' breathtaking jewelry.
Museum of Fine Arts.
727-896-2667 www.fine-arts.org;
Jan 19 29th Annual MLK Jr National Battle of Band
& Drumline Extravaganza
Witness marching bands from around the nation perform their exciting half-time shows. 4-7pm. Tropicana Field. www.mlknationalparade.org
Jan 19 SUNSHINE MUSIC AND BLUES FESTIVAL
You will be singing the blues with this world class line up of musicians: Tedeschi Trucks Band, Galactic, Leon Russell, Hot Tuna, and more!
Vinoy Park. 11:30am www.sunshinemusicandblues.com
Jan 20 MLK DRUM MAJOR FOR JUSTICE PARADE
Celebrate the holiday with marching bands from across the country, floats, civic organizations and lots of music. Parade begins at 11am.
727-893-7134 www.mlknationalparade.org
Jan 22 - Feb 23 2 TRAINS RUNNING
In 1969, a young man named Stirling comes to Memphis Lee's diner where customers have gathered for decades. But this diner has been slated for demolition, and what unfolds is August Wilson's most compassionate and humorous work about lives in transition.
American Stage. 727-823-PLAY www.americanstage.org
Feb 1 LOCALTOPIA
Celebrate all things local! Shopping, Eating, Drinking - local craft beer garden! With performances on the bandstand all day, a children's area
and art in the park! Williams Park. 11am-7pm. www.keepsaintpetersburglocal.org